Vedic Astrology Aries New Moon
Wednesday, April 26, will be the beginning of a new 30 day cycle, related to the themes of Aries. These themes include courage, passion and pursuit of our goals. This is the first sign of the zodiac, and is analogous to birth itself. There could be an innocent, recklessness if we're not careful. But at best, we are trusting our instincts and acting from a place of courage and enthusiasm.
Ashwini Nakshatra

This new moon cycle began in Ashwini Nakshatra. Ashwini is symbolized by two horses. It shows the speed and power of this sign, and the mad rush, headlong into the excitement of life that is possible. However, we must also be careful not to disperse our energy into many different directions, Or we will waste our energy.
Cool Test
Aries rules the head, which includes the brain. I found this online test to be a great "memory quiz". Check it out for yourself.
[playbuzz-item url="https://www.playbuzz.com/tanyablumberg10/only-people-with-flawless-brain-cells-will-pass-this-basic-memory-test" comments="false"]
---
My Big Secret – How I will be using this Aries Cycle
Without a doubt, the biggest question I get asked over and over again is "what is the most important thing to focus on with astrology". I always tell people "stay up with the current sun and moon cycles".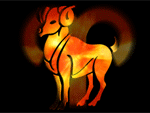 This new Moon in Aries will be completely different for each of the 12 signs. So, if you are Leo, this will be affecting your ninth house of teachings and principles. If you are a Libra it will be affecting your seventh house of relationships. If you are a Capricorn be affecting your fourth house of the heart, home and feelings.
In other words, it's important to some extent to understand that it's "Aries", but it's more important to know how this will affect you. This is why I started my member site, the Astrology Training Lab, several years ago. I did as a way to share these monthly cycles with others. It evolved to include daily forecasts and updates as well. And recently evolved into live updates each week, and a lot more fresh content..
You can check that out for only $.50, and learn what this Aries cycle means for you, as well as get two weeks of daily forecasts and the updates.
Click here to check out the Astrology Training Lab
---
Aries Forecast Continued – 4 Important Keys to the Next Month:
Four "Slow-moving" planets
This enthusiasm, passion and speed happens in the context of four planets not moving very quickly, three of them being retrograde. Meaning, part of us is feeling quite stuck as it is. This Aries cycle is about busting loose, so be careful about frustraton sabotaging your goals.
Mercury retrograde in Aries
One of the retrograde planet is Mercury, in Aries. The shows where intellectual frustration and haziness may have led to some recent miscommunications. So again, be careful with your words, they may cut very deep now.
Exalted Venus
We Are still feeling a lot of connection to the creative, dream space. But that feeling is shifting. Yet, stay connected to that joy and beauty.
Jupiter in Virgo
It is a time to put your teachings into practice, through practical efforts and daily rituals and routines.
Aries New Moon – Next 30 Days – VIDEO